Browsing all articles tagged with Viral Video
This week saw the re-release of a series commercials reach 1.5 million views on youtube (and counting) since an upload five days ago. The incredible reach of this video reveals an important insight about the nature of internet users: we like bizarre.
While the jury is still out on how well the series did for Panda cheese when it was released over the air in Egypt, it is absolutely certain that the brand has gained considerable exposure in a limited amount of time. The rate at which views are being accumulated for this video indicate that users are sharing this in a way that promotes future sharing.
But what is the root of this? The commercials themselves are unexpected, for an actual commercial to portray a Goodfellas-esque Panda threatening shoppers into buying cheese is a concept that many users find shocking. The humor is in the expectations of a conventional commercial which are broken by the actual content.
For brands that are trying to reach an online audience, this means that a different skill set is needed than conventional marketing needs. What we have seen time and time again is novelty appealing to the internet population. There are no formulas which can be applied to what captures the increasingly diminished attention span of internet users. But when something is created that does, the results are enormous.
Today's viral video is the sequel to one of the all time viral video greats: OK Go's famous treadmill video for their song "Here it Goes Again".
The video, a continuous shot performance by the band's four members, was released yesterday and at the time of this writing seems to be expanding so fast the view counter is actually broken (745 at the time of this writing). Will they do it again? A combination of quirky choreography and dogs, a known Achilles' heel of the internet community, suggests that this video has nowhere to go but up.
Today's hot viral video has been accelerating at a rate of over 1 million views per day, since it's launch on the 14th. DC shoes has gotten incredible exposure from this video due to it's extreme appeal, something its customers, extreme sport enthusiasts themselves, find valuable. Not to mention the fact that no guy in his right mind would watch this video without telling his friends…
Today's hot viral video is not very new. In fact, it's been on YouTube since December 22nd, 2005, which is only about a month after the video sharing site launched. BUT, it's a video we feel all must see, especially those who are fans of classic cinema, and more notably, Orson Welles.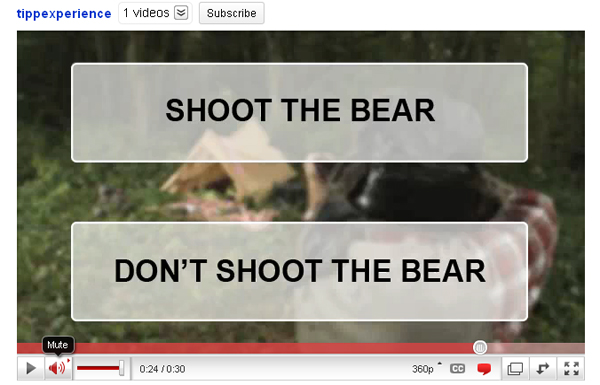 Once in a while, a new ad campaign comes along that opens new doors and pushes the boundaries of what can and cannot be done. Two weeks ago, Tippex, a whiteout manufacturer, launched a mind blowing You Tube campaign that takes us back to the days of Choose Your Own Adventure novels and is the greatest thing since the Old Spice campaign.
The campaign, titled NSWF. A hunter shoots a bear! starts with a simple enough video (Not Safe For Work Language) of some hikers talking about their sexual escapades. Suddenly, a bear comes out of the woods, and just as one of the scared hikers is about to blow its head off, two options come up on the screen: Shoot The Bear and Don't Shoot The Bear. Upon clicking on either one, the user is taken to the Tippex YouTube channel.
The videos goes on, but the hunter in the frame turns to the camera, reaches out of the video box, grabs the giant Tippex container in the ad on the right hand side, and erases shoots in the video title. He then breaks the fourth wall and asked the user to type in their own scenario.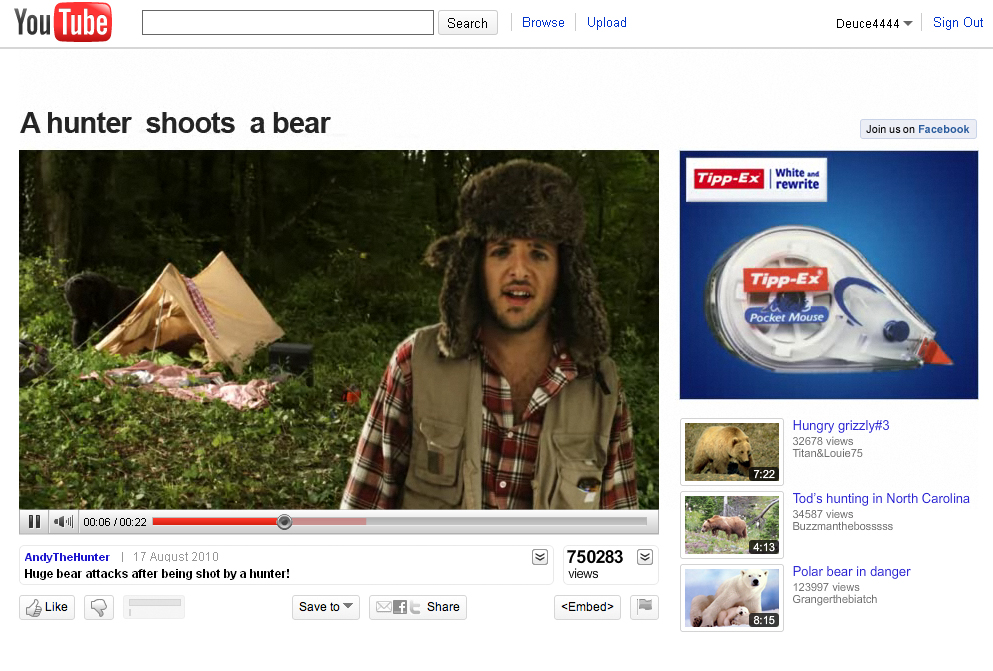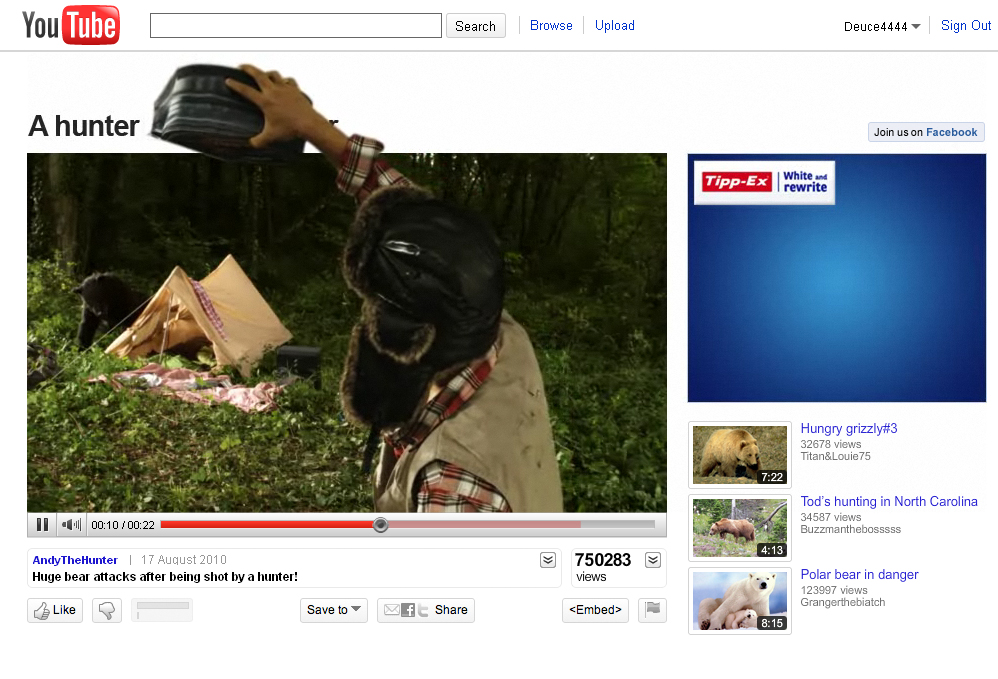 Following this, the user can input literally any word(s) he/she wants and press Play to be taken to their chose scenario involving the bear and the hunter. In some cases, the scenarios have been grouped together, like if the user inputs any type of sport it will go to a soccer video with a streaker running by and the bear scoring a goal on the hunter.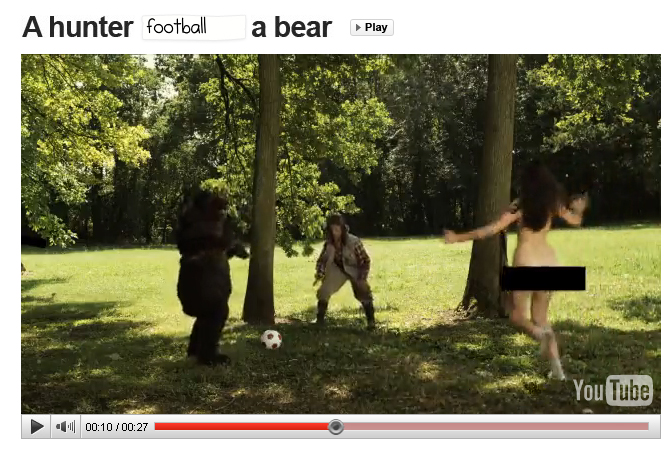 In the event that a non-filmed or non-recognizable scenario is entered, the user will be taken to an error clip.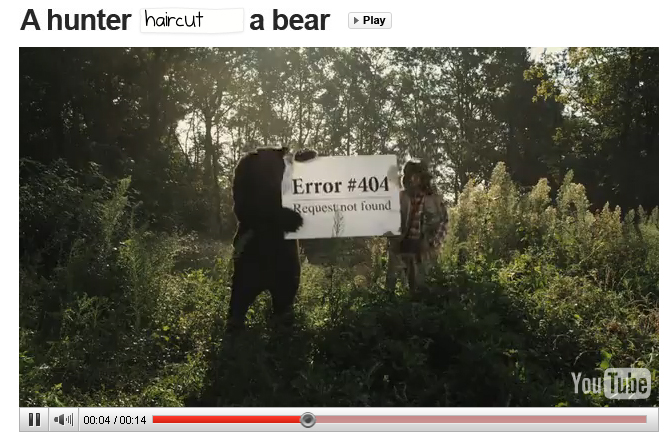 By this point, you are likely thinking that this is quite the extravagant campaign for something as simple as a whiteout company. But it's genius considering that it was timed perfectly with back to school, and contains a lot of swearing and a hilarious result if anything sexual is typed in (hence appealing to the youth). It also spits in the face of the bigger companies that struggle to launch successful online campaigns.
It's one for the little guys. Inspiring, to say the least.
Today's Hot Viral Video is GOP Candidate Phil Davison delivering an *enthusiastic* speech. In comedy, it's all about timing and delivery. Even when the comedian is not trying to be funny, and is not even a comedian to begin with. This video needs one good tag line to embed itself into Viral Video lore…maybe something along the lines of
You Dun Goofed
.
The Amazing Race has a new season starting in a few weeks. And there is no better way to promote it than with a hilarious but brutal moment in the upcoming season, where a contestant gets smashed in the face by a sling shot rocketed watermelon.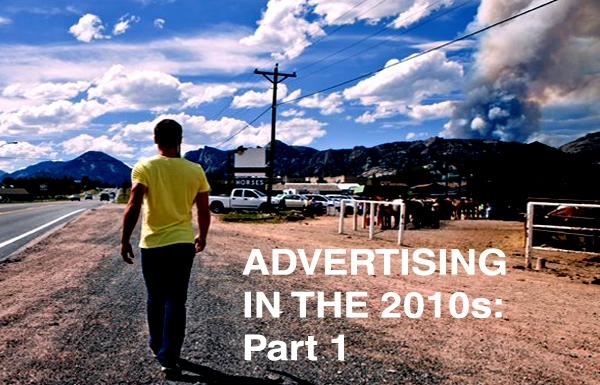 Is it irony, or just coincidence, that in a world where advertising for major corporations is drastically changing every day via Social Media one of the hottest television shows is about the origins of blatant mass marketing? Yes, I'm talking about you MadMen. Stop glorifying a world where catchy tag lines and shiny new products no longer work on the masses of consumers!
Part 1 of our Advertising in the 2010s series will focus on viral video campaigns, in particular, the ones that dress up like a user made amateur video in order to promote their product. Although there have been various online campaigns over the past few years, including the recent Old Spice questions and answers that even garnered a wedding proposal, few have been as cool and brand defining as the ones made by Levi's.
Back in 2008, this amateur video of a man doing Parkour-like jumps into a pair of jeans gained popularity online.

It seemed as though the clip was created by some highly skilled individual amateurs, especially considering the description simply read "Guys do crazy stunts and backflips into their pants". But it didn't take long for the online community to discover that Levi Strauss was in fact behind the video. And then this pastJuly, a photo essay surfaced of a man walking across America. Note the close up on the jeans near the end when he reaches into his back pocket.

Within a a day it already had half a million hits and featured hipster-band-of-the-moment Edward Sharpe and the Magnetic Zeros on the soundtrack. It even had a Behind The Scenes feature detailing how some indie filmmaker types carefully crafted the effects. The following week, it was noted by some users online that in a video blog posted by one the producers, he points out and mentions "the guy from Levi's", a man wearing a blazer seen standing with them at the Golden Gate bridge.
Now, these videos don't expressively go out and tell the public to buy Levi Jeans. In fact they don't even mention buying jeans at any point, they simply bring attention to the fact that people are doing really incredible and cool tasks while wearing comfortable jeans. And that's where the genius lies.
With these viral videos, Levi Strauss got people thinking about jeans. And when you think of jeans, what brand comes to mind first? Levi Strauss of course. They know they are synonymous with the ever popular leg wear, and they were remarkably (and quite boldly) able to identify that fact and simply chose to promote the actual medium of jeans via sub conscious marketing.
The most important thing to remember when plotting a viral video campaign is to make something that is for your company. Something special and unique that you will be happy with. You can take inspiration from other successful campaigns, but do not try to mimic their idea or style. Do something that your fan base (or target fan base) will enjoy watching, and don't be afraid to be a little silly.
Today's Hot Video is The Ticklish Camel.  It just came out last Thursday and is now garnering serious attention. Could it be the next
Goat Yells Like Man
?