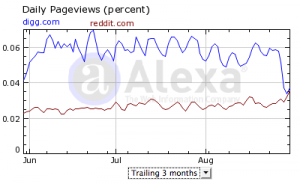 With the recent launch of Digg version 4, the once invincible social media Goliath may finally be on its last legs. And fittingly, many speculate the social news site bound to take the throne is the much smaller, user driven Reddit.
Digg's version 3, in effect since 2006, propelled the site to massive success, with valuations of up to $250 million by some and an offering of over $200 million from Google in 2008. But it was ridden with problems. Certain power users and groups of Diggers could effectively control the coveted front page, dramatically altering the dynamic of any company seeking to pay for adspace. It was clear that Digg needed a change, and that change eventually came with the launch of Digg Version 4.
The new version, in addition to containing a good deal of outright mistakes like a recommended user list, but the architecture of the site was altered too much for many of the dedicated users. While optimizing the site for more traffic, Digg also changed some features to make the community more accessible to mainstream users.
The result? Many of the once dedicated Diggers were alienated from their favorite social news site. Many transferred directly to the competition, reddit, after hearing about it through social media platforms like twitter. Reddit's community centered site structure drew many Digg "refugees" after the change.
What is the implication for social media today? This shows that smaller players can dwarf companies with massive staffs and funding (Reddit is run by a 6 person team) by getting close to the community. In web 3.0, the end user is the ultimate bottom line